Rice Water Hair Moisturiser Spray
Natural Growth | Hydrating Formula | Healthy Scalp | Strong Strands
Regular price

$107.00

Sale price

$107.00
Our Rice Water Moisturiser for hair growth and hair care delivers all the richness and nutrients ( amino acids, minerals and vitamins) in Rice Water and is free from sulfates, parabens and SLS. Our Rice Water Moisturiser is rich in antioxidants that helps provide protein for promoting hair growth, strengthening hair, adding elasticity & shine and makes your hair long, lustrous, thick and healthy.
Benefits of Rice Water Moisturiser 
✔️Stimulates hair growth - Rice water is universally used for achieving long, lustrous , thick and healthy hair. 
✔️ Nourishes & Strengthens hair  - Excess starch of Rice is known to hold a cloud full of nutrition that nourishes and strengthens your hair.
✔️ Increases hair volume - With the combination of rice water and peppermint, our Rice Water Moisturiser is proven to deliver healthy scalp and increased hair volume over a period of time with regular usage.
✔️ Natural plant based ingredients - No Sulphate, No Paraben , No Silicone, No Phthalate & No Gluten
✔️ Inspired by nature - Our Rice Water Moisturiser has been formulated carefully with peppermint to provide the experience of indulging in a freshly plucked plant from the garden.
WHAT'S IN IT

Rice Water (Aqua), Essential oil (Peppermint), Benzyl Alcohol, Salicylic Acid, Glycerin, Sorbic Acid (Preservatives)

DIRECTIONS AS A PRE-POO: SECTION HAIR INTO MANAGEABLE PARTS. APPLY TO DRY/WET HAIR AND COAT HAIR THOROUGHLY, ADD HAIR OIL OF PREFERENCE AND MASSAGE INTO HAIR STRANDS. LEAVE RICE WATER ON FOR ABOUT 10-20 MINS AND RINSE OUT BEFORE SHAMPOOING/CO-WASH.

DIRECTIONS AS A LEAVE-IN: SPRAY RICE WATER GENEROUSLY TO CLEAN WET HAIR, DISTRIBUTE EVENLY AND FINGER DETANGLE AS DESIRED.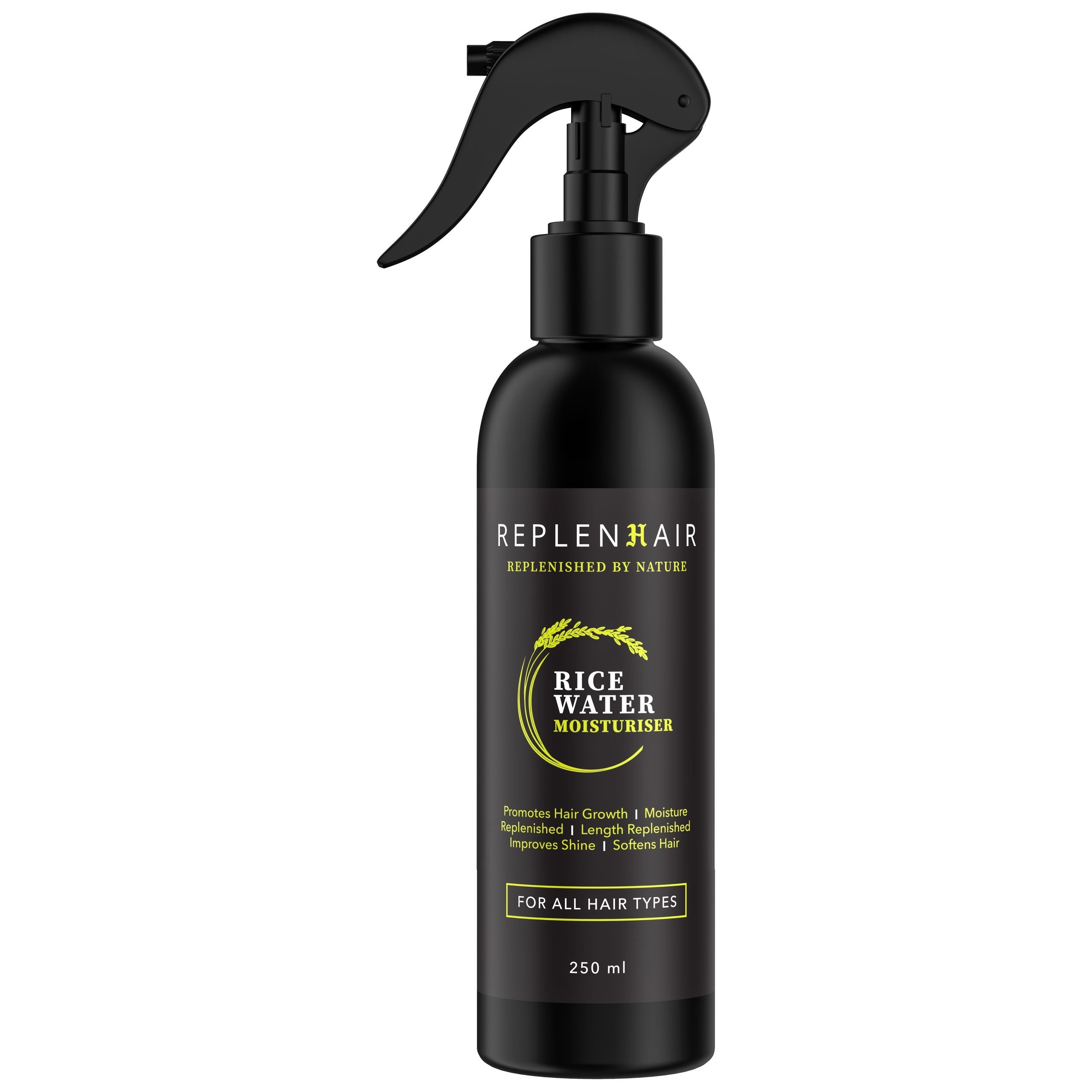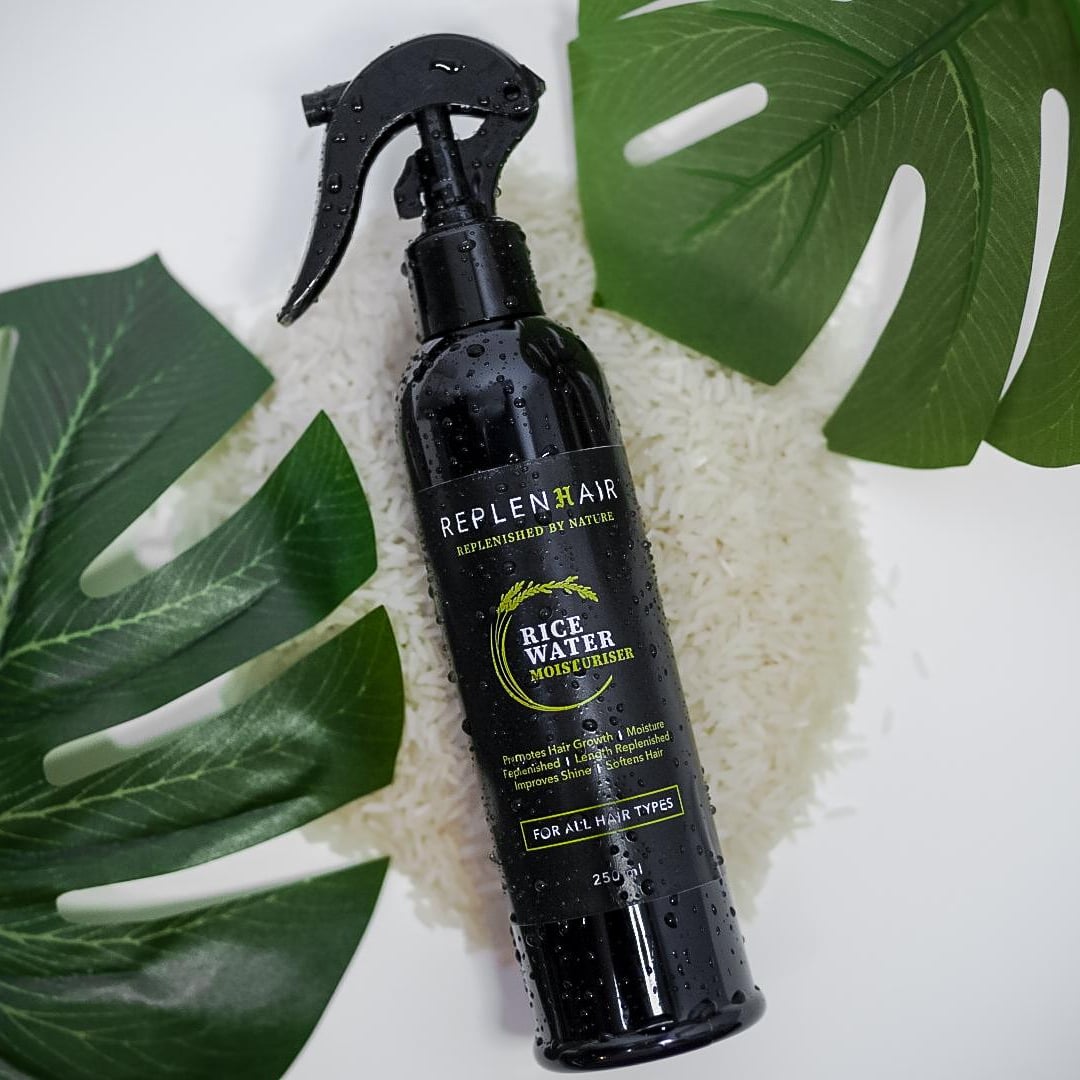 At the heart of all our products are :
Natural & Organic Ingredients
HOW TO USE
Spray on Damp Hair: After washing your hair, spray the moisturiser evenly on damp hair from roots to tips.

Massage Gently: Massage the product into your scalp and hair, ensuring even distribution for maximum benefits.

Leave-In Treatment: Leave the spray-in for all-day hydration and nourishment—no need to rinse.

Style as Desired: Style your hair as usual, enjoying the added moisture and shine from our rice water formula.
FRESHLY MADE IN SMALL BATCHES
NATURAL, PURE AND ORGANIC
FAQs
What are the benefits of using rice water on hair?

Rice water is known to strengthen, condition, and promote hair growth. It is rich in amino acids, vitamins, and minerals that nourish the hair.

Is this product suitable for all hair types?

Yes, our Rice Water Hair Moisturiser Spray is suitable for all hair types, including curly, straight, and chemically-treated hair.

How often should I use this product?

We recommend using the Rice Water Hair Moisturiser Spray 2-3 times a week for best results.

Does this product contain any harmful chemicals?

No, our Rice Water Hair Moisturiser Spray is free from harmful chemicals such as sulfates, parabens, and silicones.

Can this product be used on wet or dry hair?

This product can be used on both wet and dry hair. Simply spray it onto your hair and scalp, and massage it in for maximum absorption.

Can Rice Water Hair Moisturiser Spray be used on all hair types?

Yes, our Rice Water Hair Moisturiser Spray is suitable for all hair types - from straight to curly, and everything in between. It is formulated to provide hydration and nourishment to hair that is dry, brittle, or damaged, regardless of hair texture.

Is Rice Water Hair Moisturiser Spray safe for color-treated hair?

Absolutely! Our Rice Water Hair Moisturiser Spray contains natural ingredients that are gentle and nourishing for hair, including rice water, aloe vera, and coconut oil. It does not contain any harsh chemicals or sulfates that can strip or fade hair color, making it safe for use on color-treated hair.