Rice Bran Hair Oil
Repair & Nourish | Frizz Control | Root Strength
Regular price

$54.00

Sale price

$41.00
Our Rice Bran Hair Oil is perfectly formulated to repair and nourish brittle hair, breakage-prone hair and sluggish scalp, roots and follicles. Rice hair oil helps to make frizzy, rough hair more manageable and promotes new hair growth. 
Benefits of Rice Bran Hair Oil
Reduces split ends: Say goodbye to split ends! Rice and Grapeseed Oil nourishes scalp, reversing damage to make hair healthier.
Prevents hair breakage: Revive your hair! Rice Bran Hair Oil helps protect quality, elasticity and flexibility, reducing breakage and split ends with regular use.
Strengthens roots: Oil full of fatty acids & vitamins nourishes from root to tip, making hair healthier, stronger & damage-free.
WHAT'S IN IT

Oryza Sativa (Rice) Bran Oil, Vitis Vinifera (Grape) Seed Oil, Cananga odorata Flower Oil (Essential oils)

CONDITIONING - A small amount of the oil can be gently heated in a bowl and massaged into the scalp to revitalize hair and repair damaged strands while balancing the scalp's pH level. For added benefit, Oil can also be added directly into shampoo or conditioner of choice and used as directed. Store in a cool dry place.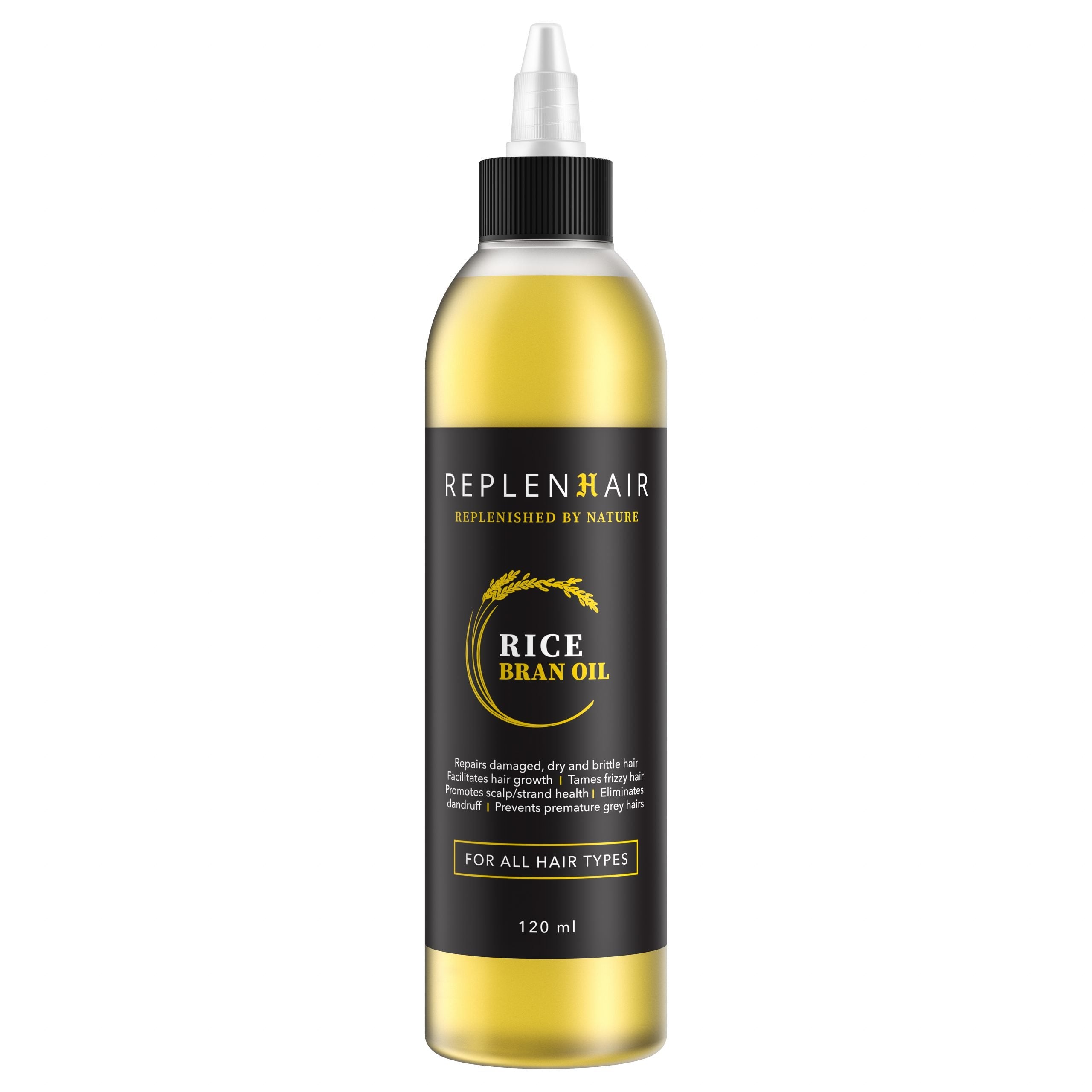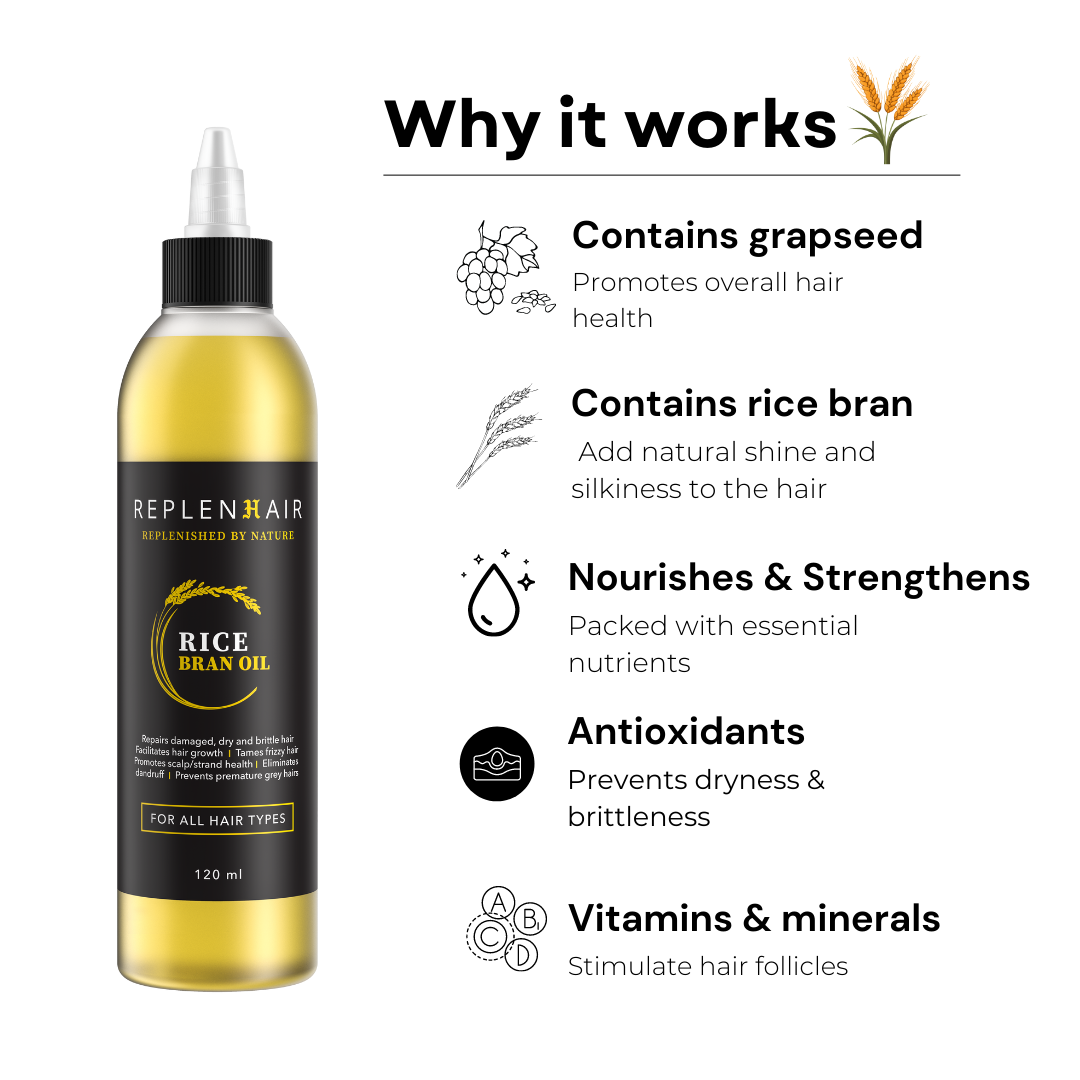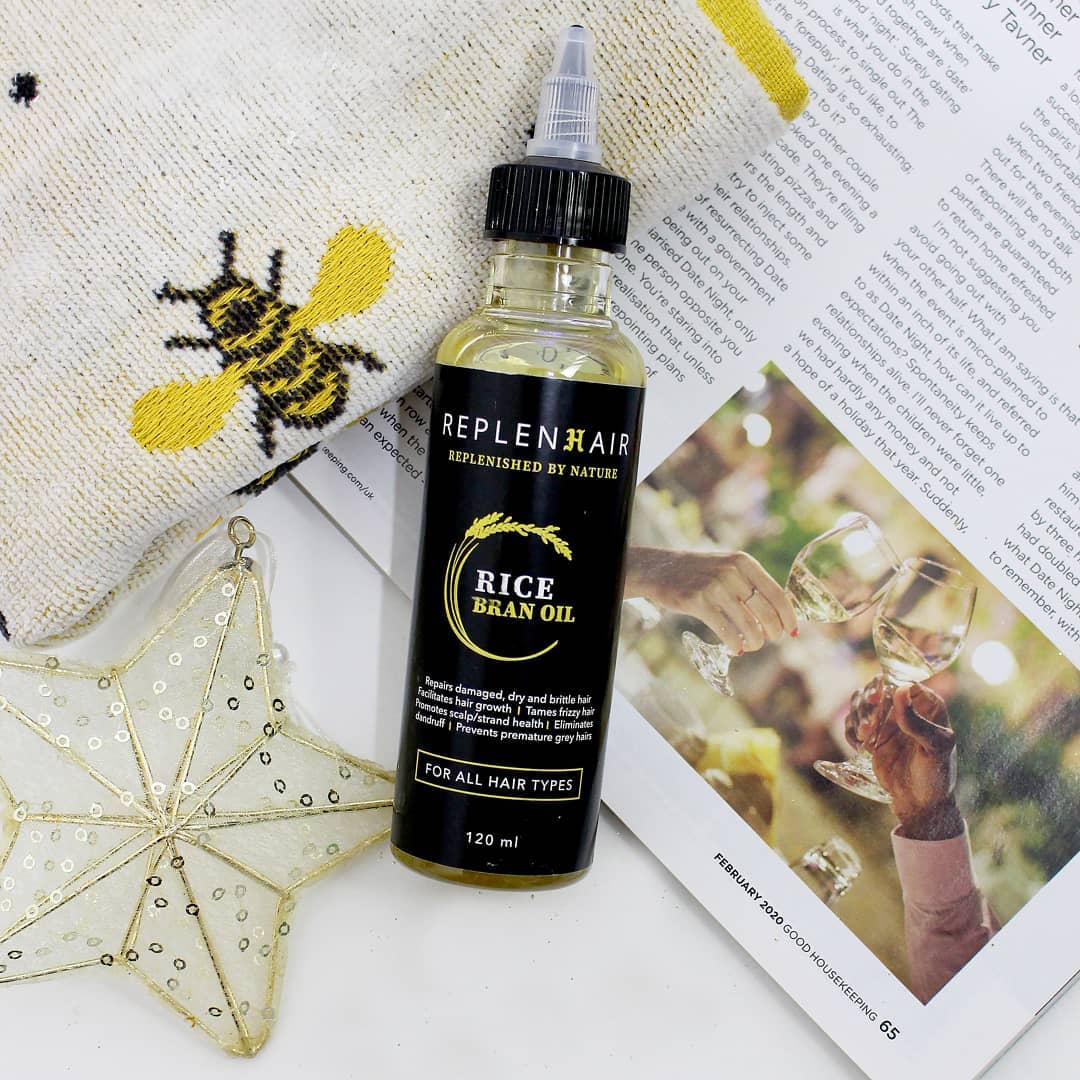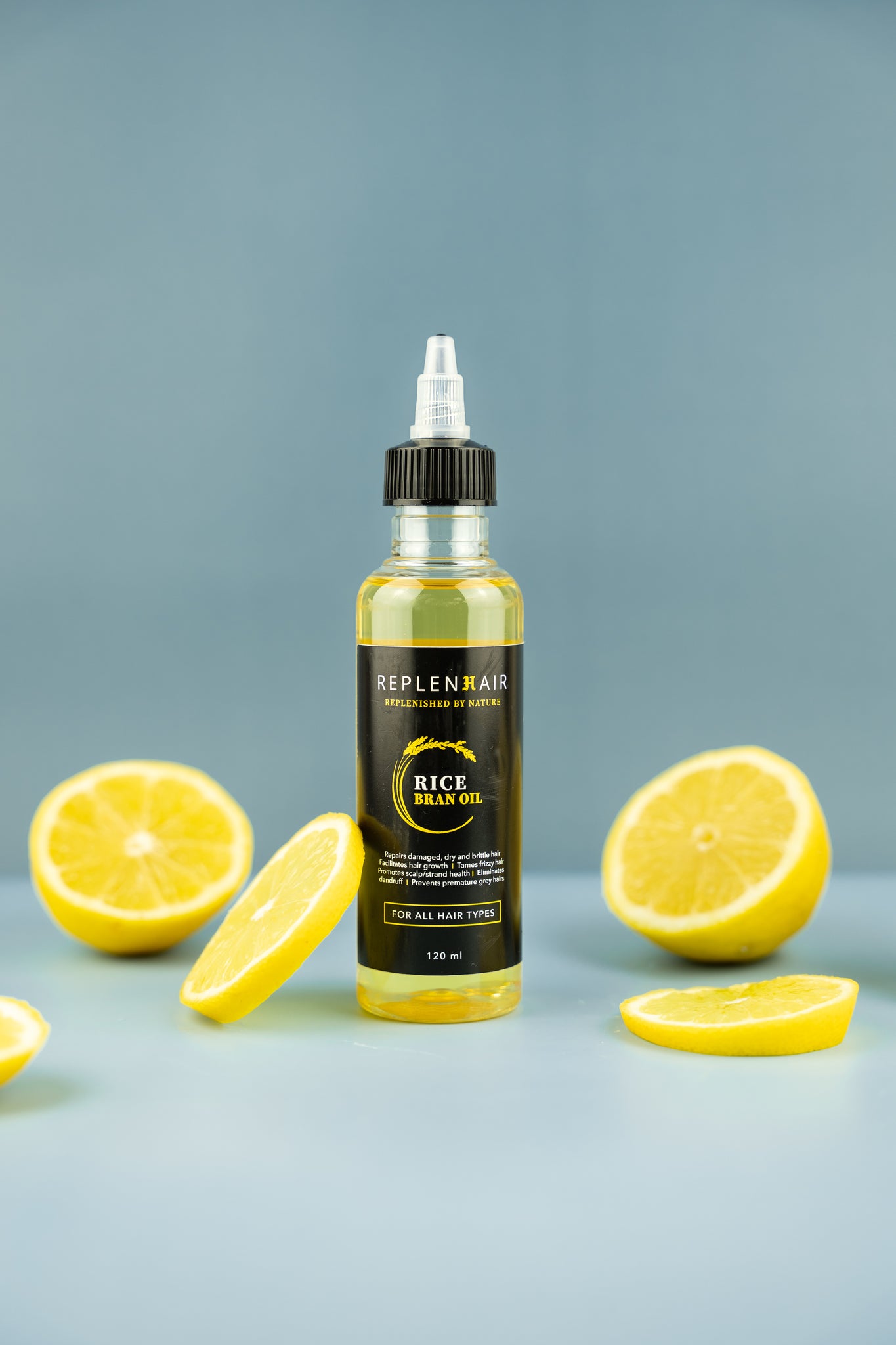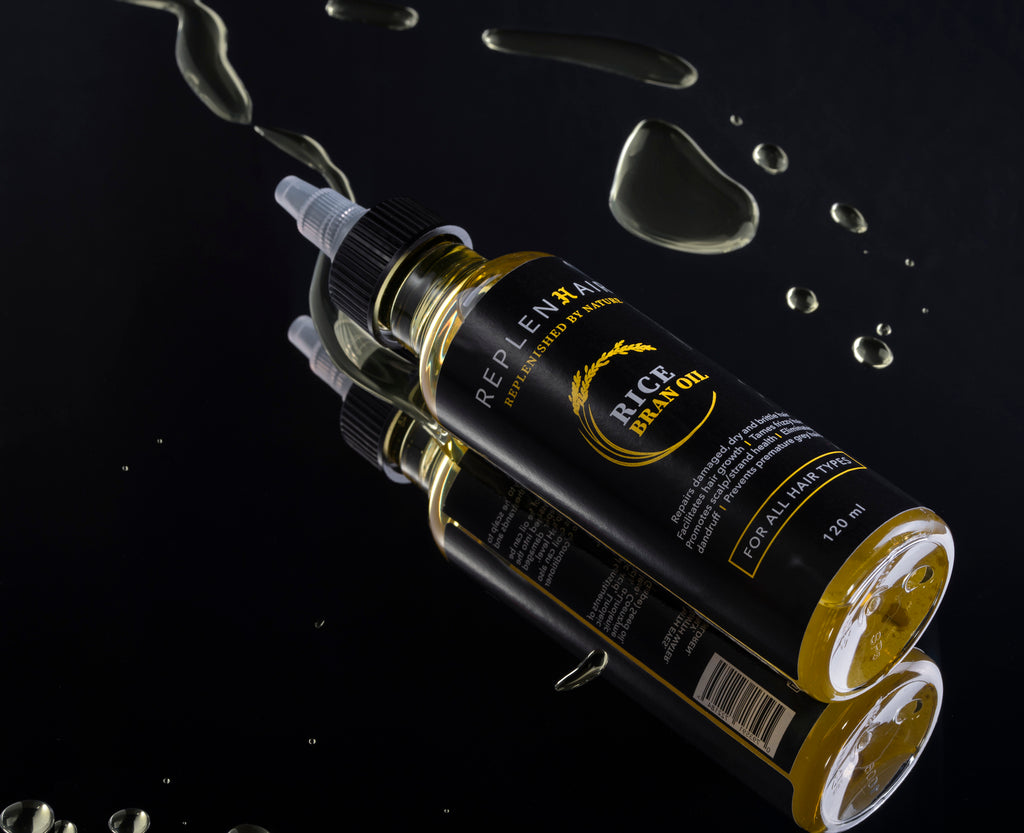 At the heart of all our products are :
Natural & Organic Ingredients
HOW TO USE
Gently warm a small amount of Rice Bran Hair Oil in a bowl.

Apply the warmed oil to your scalp and massage it in using your fingertips.

Let the oil work its magic. It revitalizes your hair and repairs damaged strands, all while balancing your scalp's pH level.

You can either rinse the oil out after letting it sit for a while, or for added benefits, mix the oil into your shampoo or conditioner. Use as directed for healthier, stronger, and more manageable hair.
FRESHLY MADE IN SMALL BATCHES
NATURAL, PURE AND ORGANIC
FAQs
What are the main benefits of using Rice Bran Hair Oil?

Rice Bran Hair Oil, available at ReplenHair, is a nourishing and versatile hair treatment that offers numerous benefits. It promotes hair growth, strengthens hair strands, and reduces breakage. Additionally, Rice Bran Hair Oil is rich in antioxidants, vitamins, and essential minerals, which contribute to a healthy scalp and overall hair health.
Can I use this oil for rough and frizzy hair?

Absolutely! The blend of Rice and Grapeseed Oil works to smooth rough hair, making it more manageable.
Will this oil help with split ends?

Yes, the natural goodness of Rice and Grapeseed Oil penetrates deeply to reverse damage and reduce split ends.
How does the oil prevent hair breakage?

Regular use of Rice Bran Hair Oil preserves hair health, elasticity, and flexibility, leading to reduced hair breakage.
Does this oil nourish the scalp?

Yes, our oil nourishes not only the scalp but also hair roots and follicles for overall hair health.
Can this oil promote new hair growth?

Yes, the formulation supports new hair growth by providing essential nutrients to the scalp and hair follicles.
Does the oil contain any harmful chemicals?

No, our Rice Bran Hair Oil is formulated with natural ingredients, free from harmful chemicals.