Aloe Rice Hair Oil
Aloe Enriched | Rice Extract | Natural Ingredients
Regular price

$59.00

Sale price

$42.00
Replenhair's Aloe Rice Hair Oil is a miracle combination of aloe vera extracts and rice bran oil. This Hair Oil will make your hair irresistibly soft and frizz-free thereby preventing them from drying.
A combination of powerful ingredients have high contents of vitamins, proteins & minerals to nourish hair follicles and strands great for deeply conditioning and moisturising the hair leaving them soft and smooth. Aloe Rice Oil is perfect for all hair types and is designed to deliver visible results after consistent use.
Benefits of Aloe Rice Hair Oil
Revitalizes and Strengthens Hair: Aloe Rice Oil strengthens & restores hair, reducing breakage & promoting growth.
Deeply Moisturizes and Conditions: Aloe Vera & Rice Bran Oil penetrate for intense hydration & improved texture.
Soothes Scalp: Aloe Vera's soothing properties help calm an irritated scalp, reducing itchiness and dryness.
Suitable for All Hair Types: Aloe Rice Oil caters to any hair type: fine, thick, curly or straight.
WHAT'S IN IT

Hand-blended Oils including Aloe barbadensis Leaf Extract Oil, Oryza Sativa (Rice) Bran Oil , Rosmarinus officinalis (Rosemary) Leaf Oil, Fragrance Essential Oil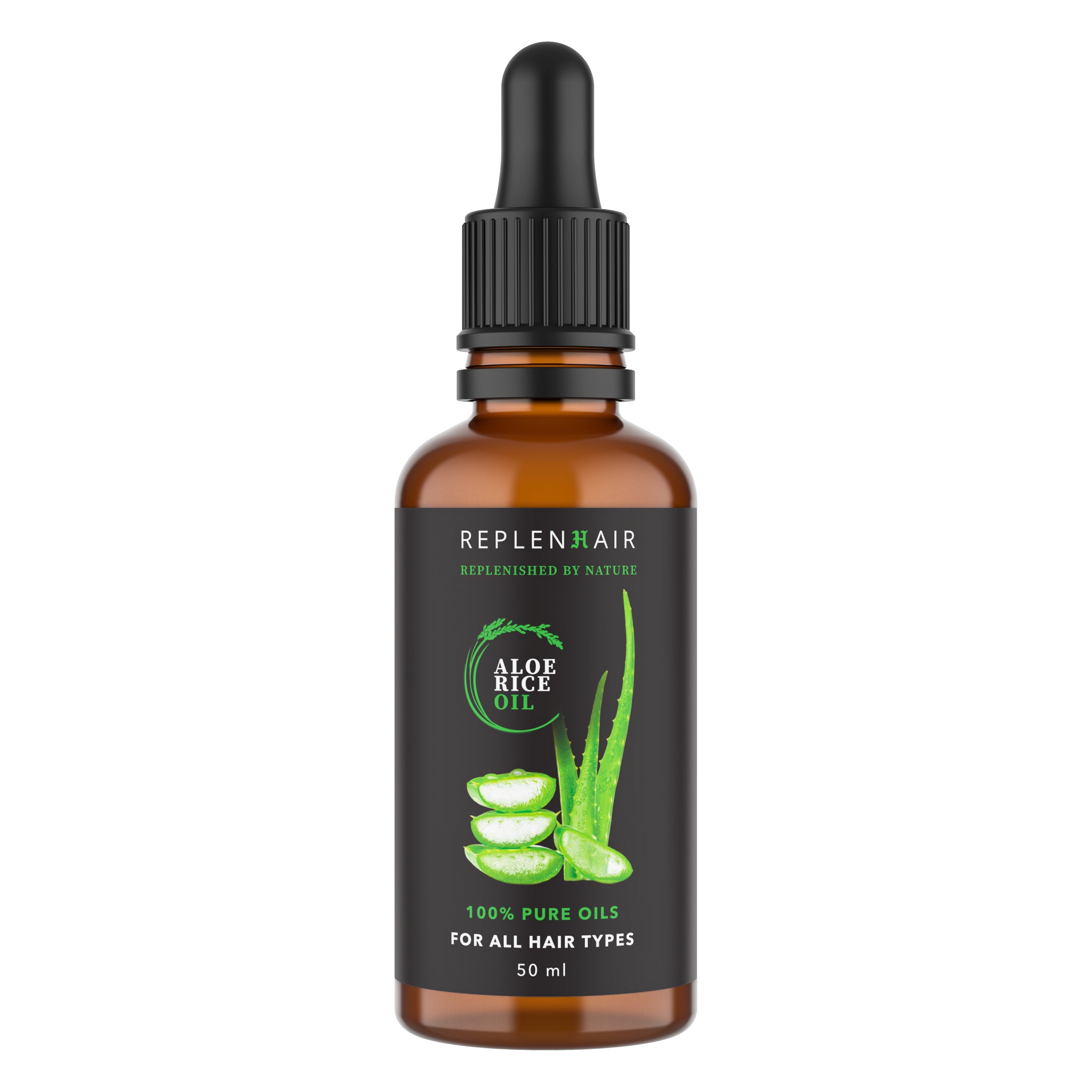 At the heart of all our products are :
Natural & Organic Ingredients
HOW TO USE
Take a small amount of oil on your fingertips.

Gently massage the oil onto your scalp in circular motions.

Evenly spread the oil through the lengths of your hair.

Leave the oil on for at least 30 minutes or overnight for deep nourishment. Rinse off with a mild shampoo.
Real results from satisfied customers
★★★★★

"RECOMMENDED"

"Aloe Rice Hair Oil is a miraculous blend that adds incredible softness, shine, and a delightful scent while feeling weightless on my hair."

Olive.

★★★★★

"MIRACULOUS TRANSFORMATION!"

"I've got this oil and I'm using this everyday and I can say is perfect my hair looks much thicker after only one week is amazing"

Zara.

★★★★★

"SUPERB PRODUCT"

"After using it for a month, I'm truly amazed by the results - it's been quite shocking!"

Alma.
FAQs
How often should I use Aloe Rice Hair Oil?

For best results, use the hair oil 2-3 times a week or as recommended by your hair care professional.
Can I use this oil on colored or chemically treated hair?

Yes, Aloe Rice Hair Oil is safe for use on colored or chemically treated hair, providing nourishment and protection.
Can Aloe Rice Hair Oil help with hair growth?

Yes, our powerful ingredients nourish hair follicles, promoting hair growth and reducing breakage.
How long should I leave the oil on my hair?

For deep moisturization, leave the oil on for at least 30 minutes or overnight before washing it off.
Does the oil have a strong fragrance?

Our Aloe Rice Hair Oil has a mild and pleasant scent derived from its natural ingredients.
Can I use this oil in combination with other hair products?

Absolutely! You can incorporate our oil into your regular hair care routine for added nourishment.
How long does it take to see visible results?

Individual results may vary, but with consistent use, you may notice revitalized and smoother hair within a few weeks.
Can both men and women use Aloe Rice Hair Oil?

Absolutely! Our Aloe Rice Hair Oil is suitable for use by both men and women, delivering visible results for all hair types.