---
Onion Hair Oil
Regular price

$70.00

Sale price

$54.00
Reduces hair fall:

Our Onion Hair Oil is specially formulated to stimulate hair growth and combat hair fall. Watch your hair transform from thin and weak to thick, strong, and voluminous!

Adds shine and lustre: Want to turn heads with your radiant, shiny hair? Onion hair oil is your secret weapon. It helps to smooth out frizz and add a natural shine to your hair, making them look voluminous and silky.
Prevents split ends: Say goodbye to those pesky split ends that ruin your hair's appearance. Onion hair oil helps to seal the ends of your hair, preventing them from splitting and breaking off.
Improves hair texture: With regular use, onion hair oil can improve the overall texture of your hair, making them feel softer and more manageable.
This item does not qualify for our money-back guarantee
WHAT'S IN IT

Hand-blended Oils including Allium Cepa (Onion) Bulb Extract, Nigella Sativa (Black) Seed Oil, Oryza Sativa (Rice) Bran Oil , Rosmarinus officinalis (Rosemary) Leaf Oil, Tocopherol (Vitamin E), Fragrance Essential Oil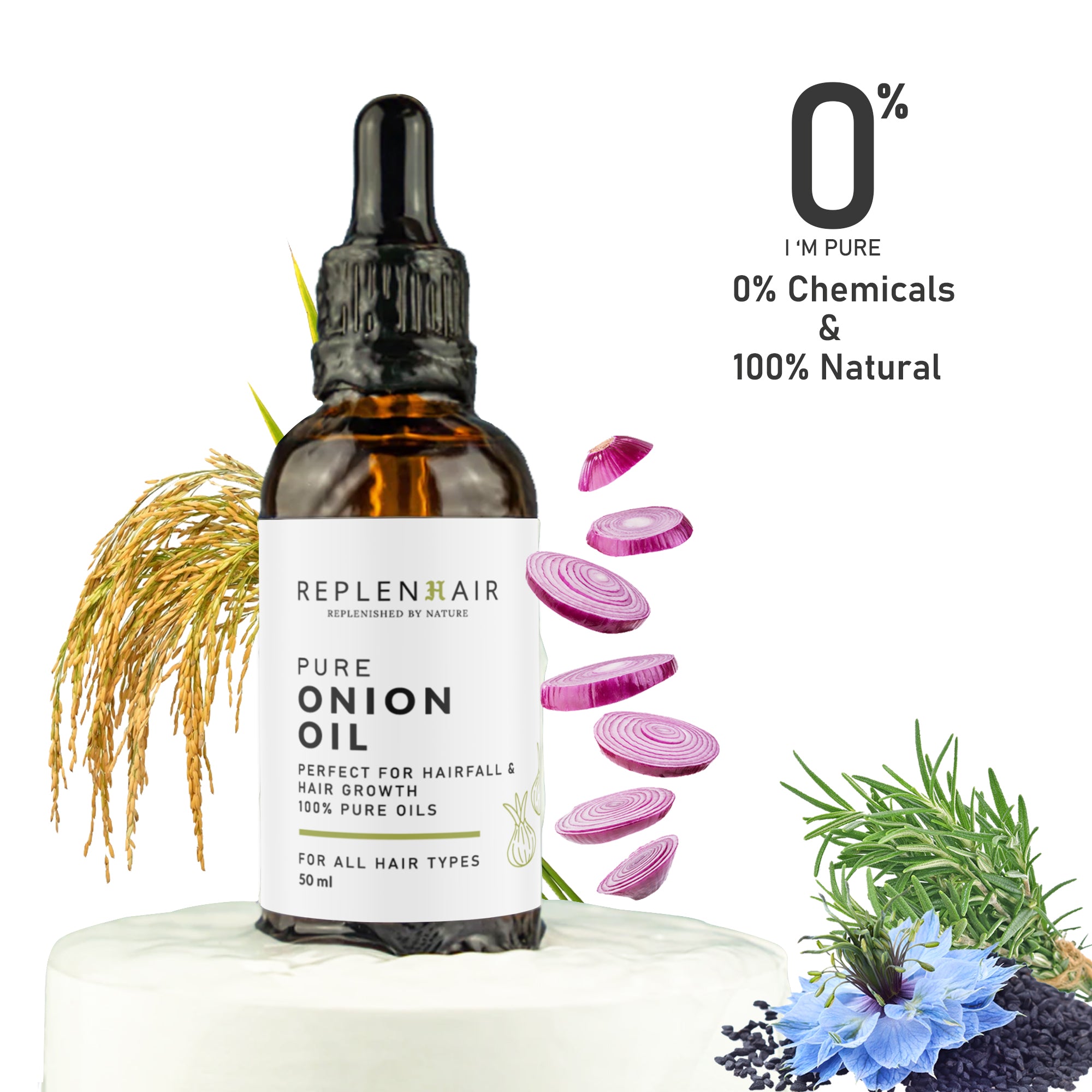 HOW TO USE
Apply to scalp and hair: Gently massage the Onion Hair Oil into your scalp and distribute it evenly through your hair.

Leave it on: Allow the oil to sit for at least 30 minutes, or leave it on overnight for better results.

Shampoo and rinse: After the recommended time, shampoo your hair to remove the oil, then rinse thoroughly.

Use regularly: To see the full benefits, use Onion Hair Oil regularly to reduce hair fall, add shine, prevent split ends, and improve hair texture.
FRESHLY MADE IN SMALL BATCHES
NATURAL, PURE AND ORGANIC