Super Growth Hair Oil Combo
Accelerate Growth | Frizz Repair | Scalp Revive
Regular price

$99.00

Sale price

$99.00
Our Super Growth Combo teeming with vitamins, minerals and vegan ingredients that will accelerate hair growth, rejuvenate and strengthen hair and moisturise dry and damaged hair.
Benefit of Super Growth Combo
Frizz Control and Split End Repair:Super Growth Combo tames frizz and repairs split ends with vegan vitamins and minerals. It helps keep hair smooth and free from frizz, and heals split ends.

Promotes New Hair Growth: Stimulate scalp blood flow & promote hair growth with the Super Growth Combo. Watch as new hair growth is encouraged & hair becomes fuller & healthier.

Enhances Hair Elasticity and Flexibility: Say goodbye to rigid hair. Our combo boosts elasticity and flexibility, helping prevent breakage. Notice greater strength and resilience.

Revitalizes Hair Follicles and Soothes Scalp Irritation: Super Growth Combo strengthens & rejuvenates strands & follicles, preventing scalp irritation for healthy hair growth.
WHAT'S IN IT

Oryza Sativa (Rice) Bran Oil, Vitis Vinifera (Grape) Seed Oil, Cananga odorata Flower Oil (Essential oils)

Spinacia Oleracea (Spinach) seed oil, Coriandrum Sativum (Corinader) seed oil, Cucurbita Pepo (Pumpkin) seed oil, Persea Gratissima (Avocado) seed oil, Bambusa Vulgaris Extract (Bamboo) oil, Vitis vinifera (Grape) Seed Oil,Tocopherol vitamin E, Mentha piperita (Peppermint) oil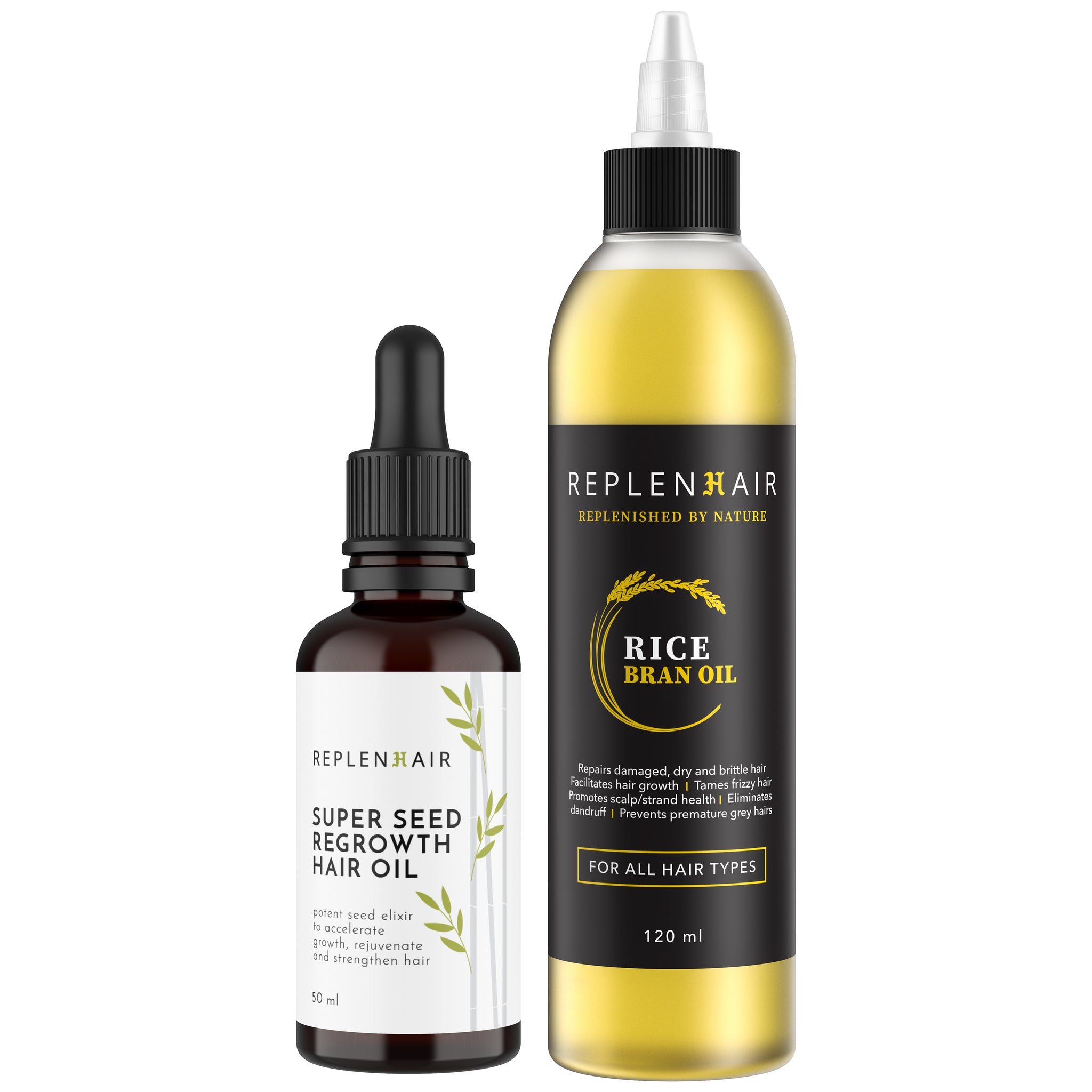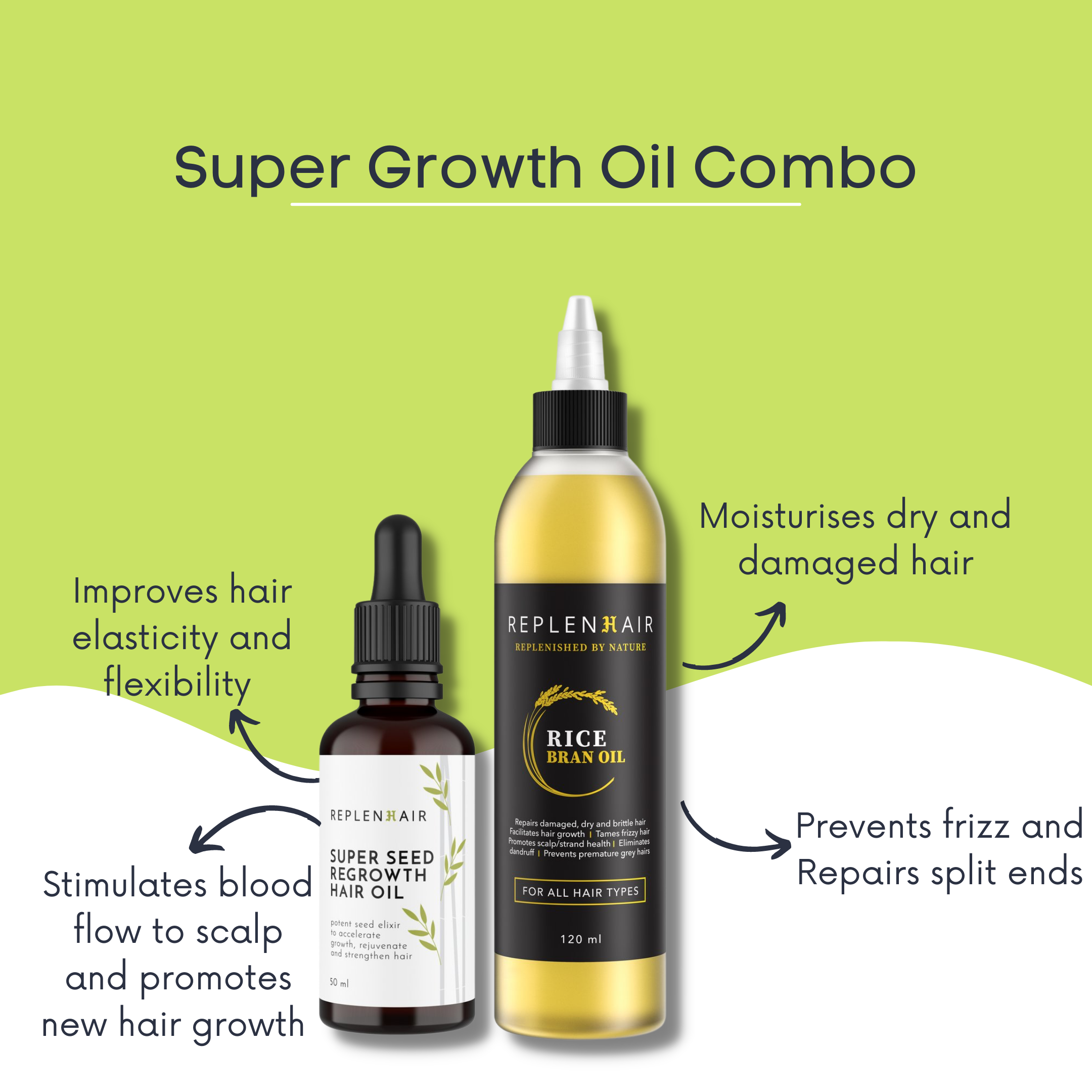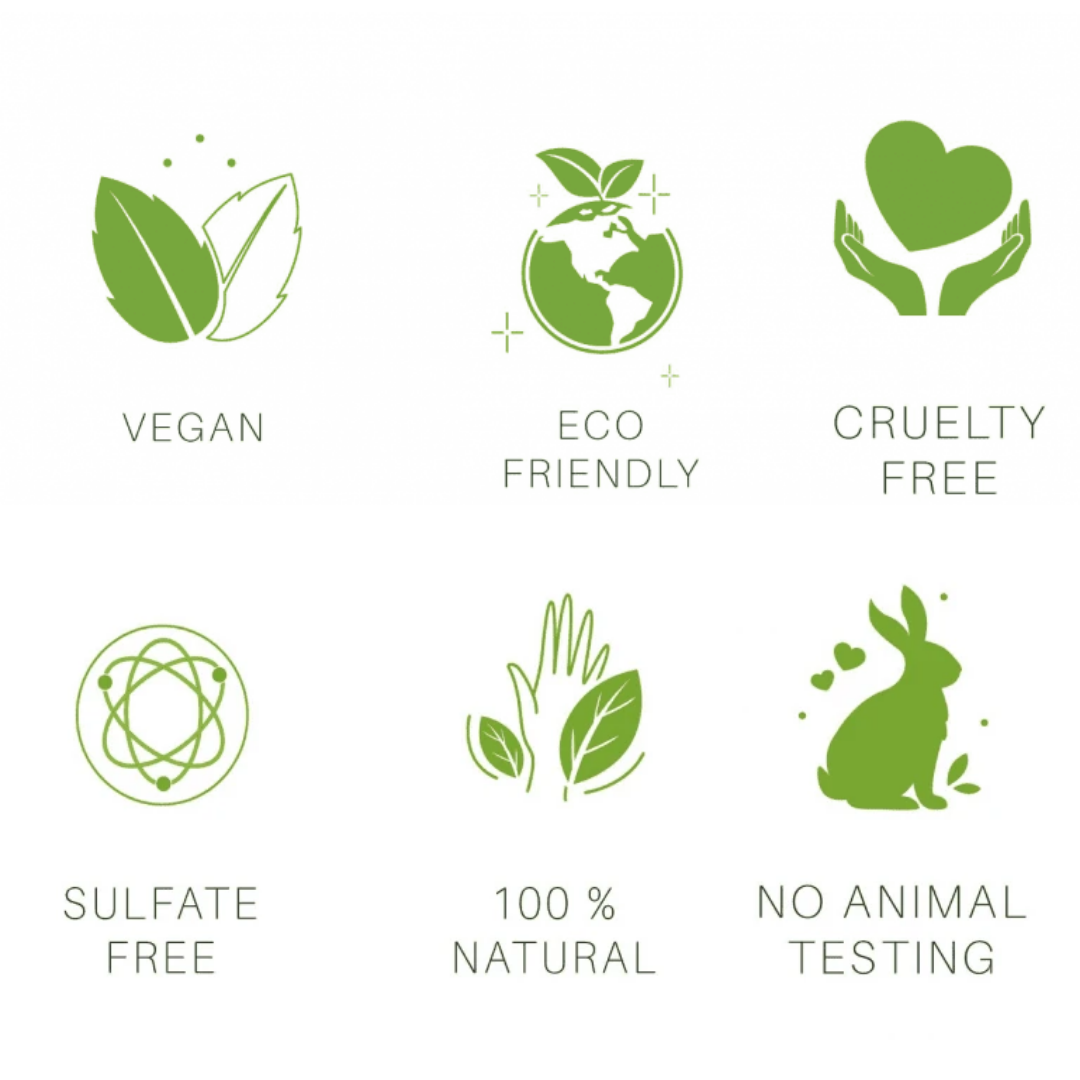 At the heart of all our products are :
Natural & Organic Ingredients
HOW TO USE
Before application, ensure your hair is clean and dry. You can wash your hair with your regular shampoo and let it air dry or use a towel to remove excess moisture.

Take a small amount of the Super Growth Oil from the bottle. The exact amount may vary depending on your hair length and thickness. Start by applying the oil to your scalp. Use your fingertips to gently massage the oil into your scalp in circular motions. This promotes blood circulation and helps the oil penetrate the hair follicles.

After applying the oil to your scalp, work the remaining oil through the lengths of your hair. If your hair is longer, you might want to use a wide-tooth comb to help distribute the oil evenly from root to tip. This helps nourish and strengthen your hair strands.

You can choose to leave the Super Growth Oil in your hair as a treatment. However, if you prefer not to leave it in, you can rinse it out after leaving it on for a certain period (recommended time can be found on the product label). To rinse, shampoo your hair thoroughly and make sure all the oil is washed out.
FRESHLY MADE IN SMALL BATCHES
NATURAL, PURE AND ORGANIC
FAQs
What is included in the Super Growth Combo?

The Super Growth Combo includes a blend of hair oils enriched with vitamins, minerals, and vegan ingredients designed to accelerate hair growth, strengthen and rejuvenate hair, and provide moisture to dry and damaged strands.

How does the Super Growth Combo prevent frizz and repair split ends?

The Super Growth Combo contains nourishing ingredients that help smooth the hair cuticle, reducing frizz and preventing split ends. The oils penetrate deeply to provide essential nutrients, promoting healthier and more resilient hair.

Can the Super Growth Combo really stimulate hair growth?

Yes, the Super Growth Combo is formulated to stimulate blood circulation in the scalp, which in turn promotes new hair growth. The nutrients in the oils nourish the hair follicles and encourage stronger, thicker hair growth.

What benefits does the Super Growth Combo offer for hair elasticity?

The blend of oils in the Super Growth Combo enhances hair elasticity, making it less prone to breakage. This leads to stronger, more flexible hair that can withstand daily styling and environmental stressors.

How does the Super Growth Combo help in reviving hair follicles?

The Super Growth Combo's potent ingredients work to rejuvenate dormant hair follicles, promoting the growth of new, healthy hair strands. This can result in increased hair density and improved overall hair health.

Is the Super Growth Combo suitable for all hair types?

Yes, the Super Growth Combo is designed to work effectively on all hair types, whether straight, curly, wavy, or coily. Its versatile formula caters to diverse hair textures and concerns.

How often should I use the Super Growth Combo?

For optimal results, we recommend using the Super Growth Combo 2-3 times a week. Apply a moderate amount to your scalp and hair, massage gently, and leave it on for a few hours or overnight before washing.