Aloe Rice Water Hair Moisturiser Spray
Hydrating Formula | Hair Nourishment | Vibrant Hair
Regular price

$107.00

Sale price

$86.00
For hair in need of intense nourishment, Aloe Rice Water Hair Moisturiser Spray is an excellent choice. This spray provides intensive hydration through its combination of aloe and rice water, leaving your hair feeling silky soft and healthy. Unlock its full potential with regular use to get beautiful, healthy hair that shines with natural vibrancy!  Guaranteed Results or Your Money Back.

Benefits of Aloe Rice Water For Hair
✔️Stimulates hair growth - moisturises and promotes hair growth. 
✔️Helps to strengthen strands  - nourishes the scalp, reduces scalp inflammation 
✔️Moisturises hair - Aloe Vera deeply conditions and moisturises hair leaving the hair soft and smooth.
✔️Makes hair softer, stronger and silkier.
WHAT'S IN IT

Rice (Aqua) Water, Organic Aloe Barbadensis (Aloe Vera) leaf juice, Glycerin, Vitamin E, Fragrance (essential oils) and Preservative (Benzyl Alcohol, Salicylic Acid, Sorbic Acid)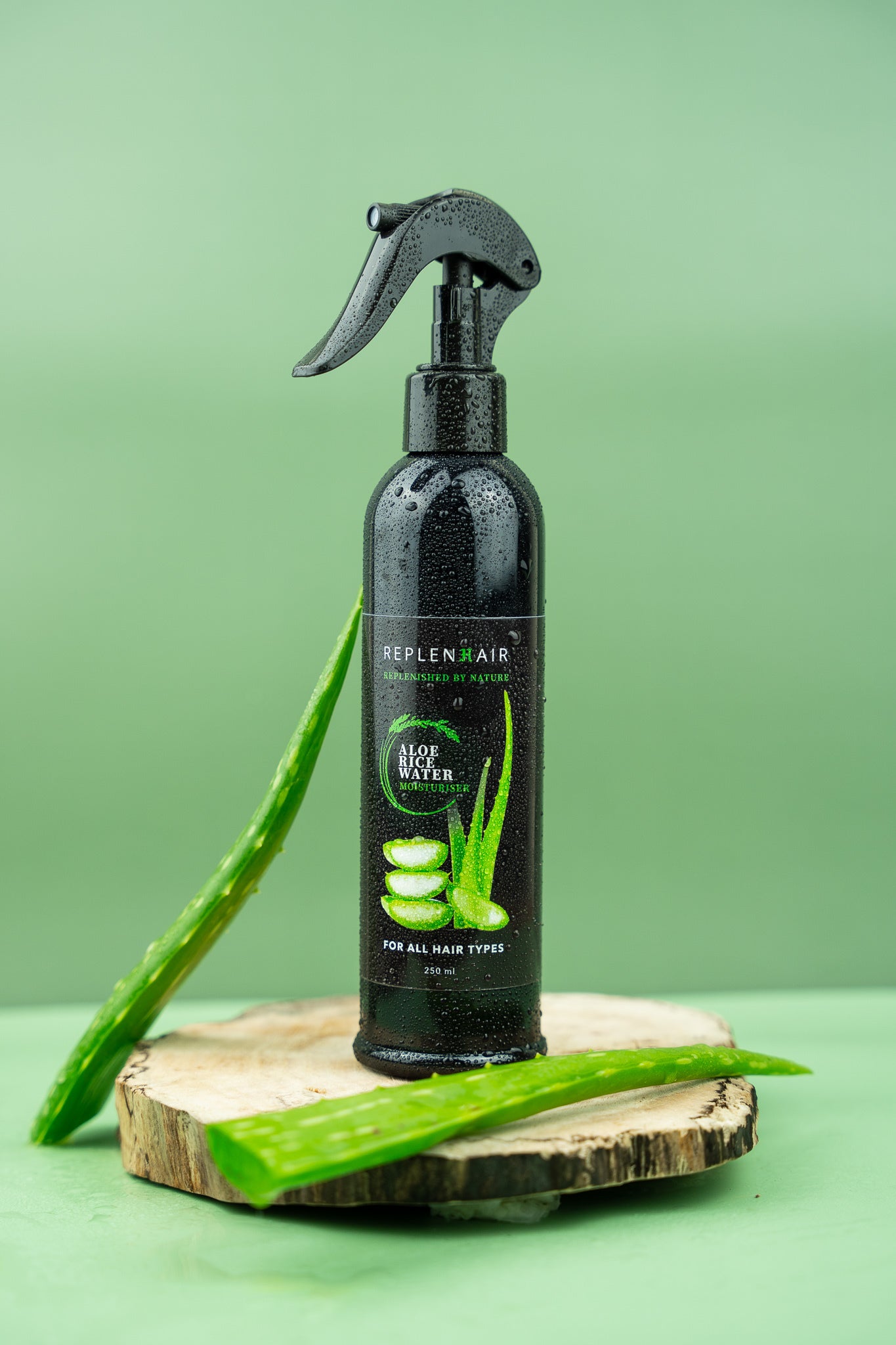 At the heart of all our products are :
Natural & Organic Ingredients
HOW TO USE
Start by shaking the Aloe Rice Water Hair Moisturiser Spray well to mix all the natural ingredients properly.

Spray the moisturiser generously onto your scalp or directly on your hair. Ensure it's evenly distributed for maximum effectiveness.

Allow some time for the product to be fully absorbed. This enhances its moisturising benefits and allows the nutrients to penetrate deeply.

After the spray is absorbed, style your hair as you wish. Enjoy your hydrated, shiny, and healthy-looking hair!
FRESHLY MADE IN SMALL BATCHES
NATURAL, PURE AND ORGANIC
FAQs
What are the main ingredients in the Aloe Rice Water Hair Moisturiser Spray?

This moisturiser contains a unique blend of natural ingredients, including aloe vera and rice water, known for their hydrating and nourishing properties.
Is this moisturiser suitable for all hair types?

Yes, the Aloe Rice Water Hair Moisturiser Spray is designed to work effectively on all hair types, including curly, straight, wavy, and coiled hair.
How often should I use this moisturiser?

We recommend using the Aloe Rice Water Hair Moisturiser Spray daily for optimal results. However, the frequency can be adjusted based on your hair's needs and condition.
Does this product contain any sulfates, parabens, or artificial fragrances?

No, our moisturiser is free from sulfates, parabens, and artificial fragrances, making it safe for regular use and suitable for sensitive scalps.
Can this product help with dry and frizzy hair?

Absolutely! Our moisturiser is designed to hydrate and smooth hair, effectively reducing dryness and frizziness.
Can this spray be used on color-treated hair?

Absolutely! Our spray is safe for color-treated hair and can help maintain vibrancy while adding moisture.


What is the shelf life of this product?

The Aloe Rice Water Hair Moisturiser Spray has a shelf life of 12 months after opening.